Vlasť Nikoleski is an established sculptor working in NSW Australia. While born in Macedonia, he has five decades of artistic practice in Australia and has produced a significant body of work. View some of his work in the 5 folios on this website. Vlasť has received 31 major awards and 26 commissions during his career so far. His sculpture is in public collections at the Australian National Gallery in Canberra, Museum of Modern Art Heide, the National Gallery of Victoria in Melbourne, Mildura Arts Centre, Arts Centre of Prilep and the National Gallery of Macedonia, Henry Moore Sculpture Park in Bretton Hall UK and several other public institutions. His work is also included in the collections of numerous private institutions and individuals.
Vlase's sculpture DOMESTIC DILEMMA won the CERAMIC BREAK SCULPTURE PARK
Inaugural Triennial Sculpture Award in September 2019 and will become
part of this amazing sculpture park near Warrigal in central NSW.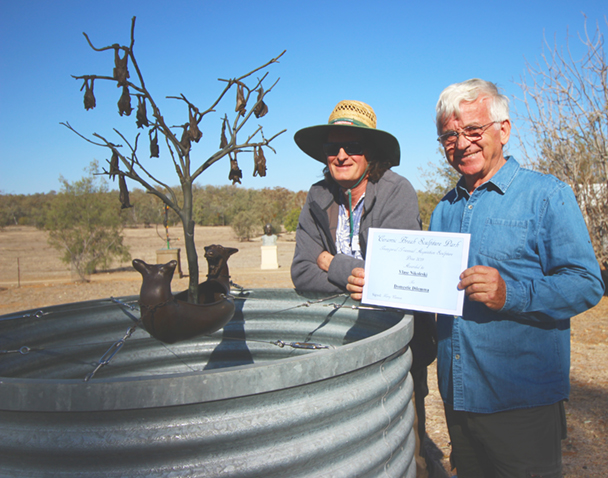 DOMESTIC DILEMMA acquired by Ceramic Break Sculpture Park in 2019.
Materials: Bronze, stainless steel, and galvanised iron.
Dimensions: H 255 x W 188 round cms. Completed 2010.

Climate change and depleted water tables and the issues of indigenous versas introduced species
are presented to the viewer as a poetic mix of familiar forms. The empty water tank,
the cat / dog canoe (representing introduced species), the dead tree filled with indigenous
bats hanging like ripened fruit, make a fertile starting point for the viewer's thoughts.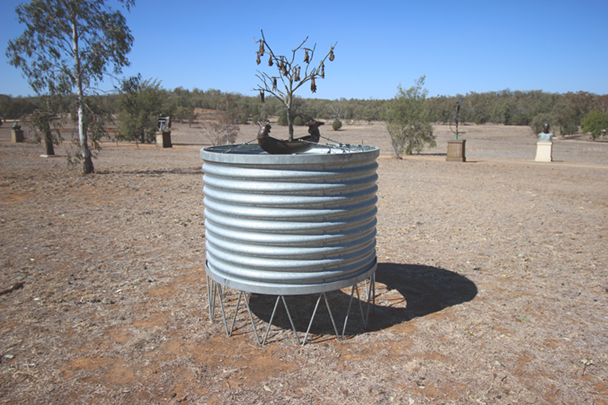 Vlase Nikoleski with MONUMENT FOR SMALL CHANGES at Sculpture by the Sea.
Materials: Bronze, stainless steel, and kiln fired fossilized siltstone.
Dimensions: H 190 x W 166 x D 90 cms. Completed 2010.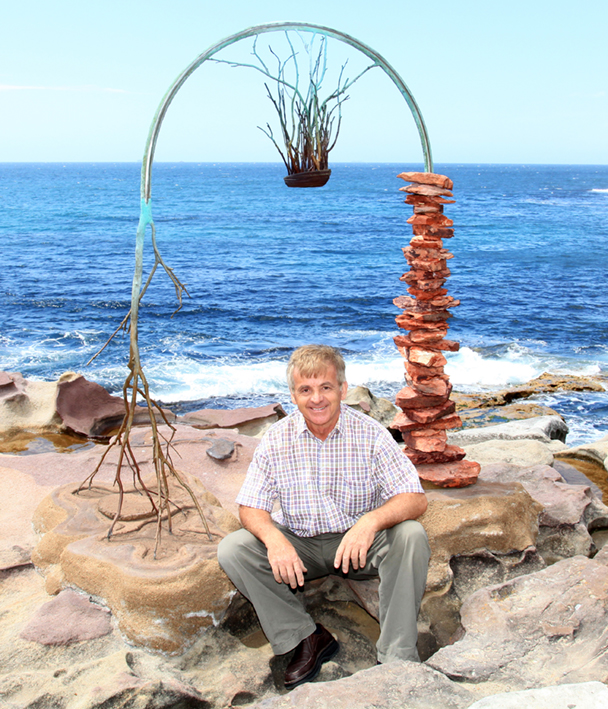 Vlase with WITHIN SEVEN DAYS, now part of the sculpture collection at the Museum of Modern Art in Skopje, Macedonia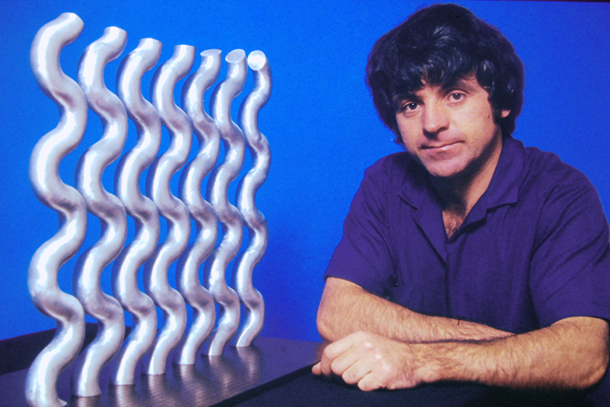 Vlase Nikoleski with FISH OUT OF WATER: MALE(background) & FEMALE (foreground).
Materials: Bronze, stainless steel and sandstone.
Dimensions: H 248 x W 71 x D 43 cms approximately. Completed 2018.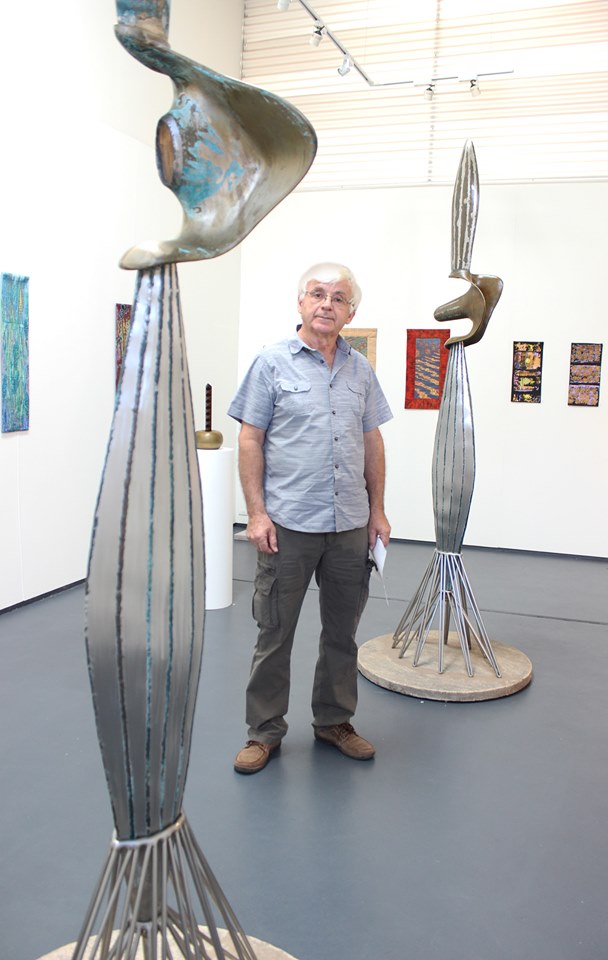 Vlase and a helper pouring bronze in his foundry in Redhead NSW.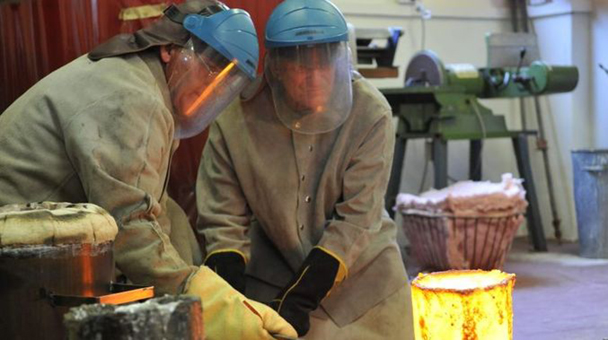 Vlase Nikoleski working on part of the fountain for the university of Newcastle NSW.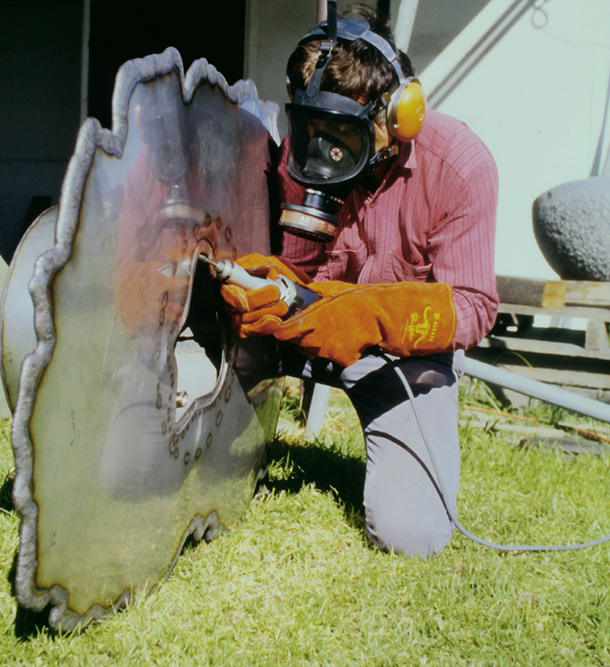 Some of Vlase's sculpture in a corner of the bottom gallery in his studio/workshop in Redhead NSW.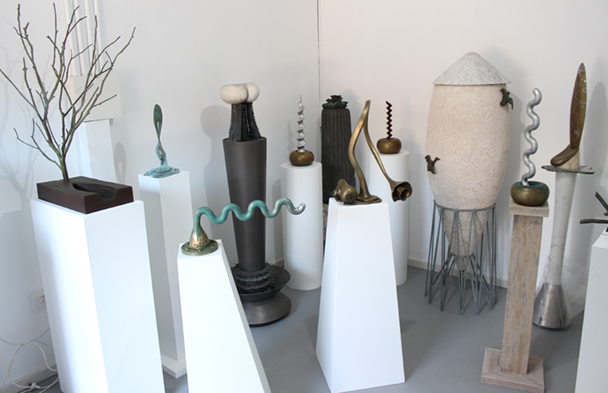 More sculpture in the top gallery in Vlase's studio/workshop in Redhead NSW.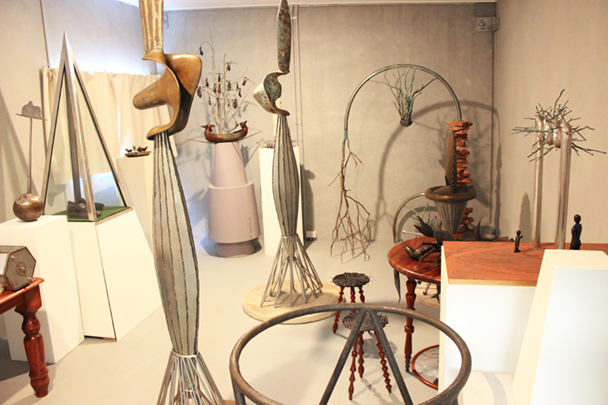 Finishing part of the commission for the Australian Customs head office.